The Southampton Rose Society is an organization dedicated to beautifying the Village of Southampton by maintaining 5 public gardens and the magnificent Rose Garden at the Rogers Memorial Library. The SRS also offers numerous educational lectures by some of the world's most famous rosarians, gardeners, photographers and perfumers.
On June 20th, we have our annual Rose Show at the Rogers Memorial Library. This is a fun yet serious competition for those who love to grow roses. The event will be professionally judged and is open to public viewing that day. You will see some of the most beautiful, award winning roses in the world.
We hope you will join us for the Rose Show on June 20th,  and on June 27th for our exclusive garden tour featuring 5 incredible gardens in private homes, open to those who wish to purchase tickets.
Please spread the word to your families and friends!
---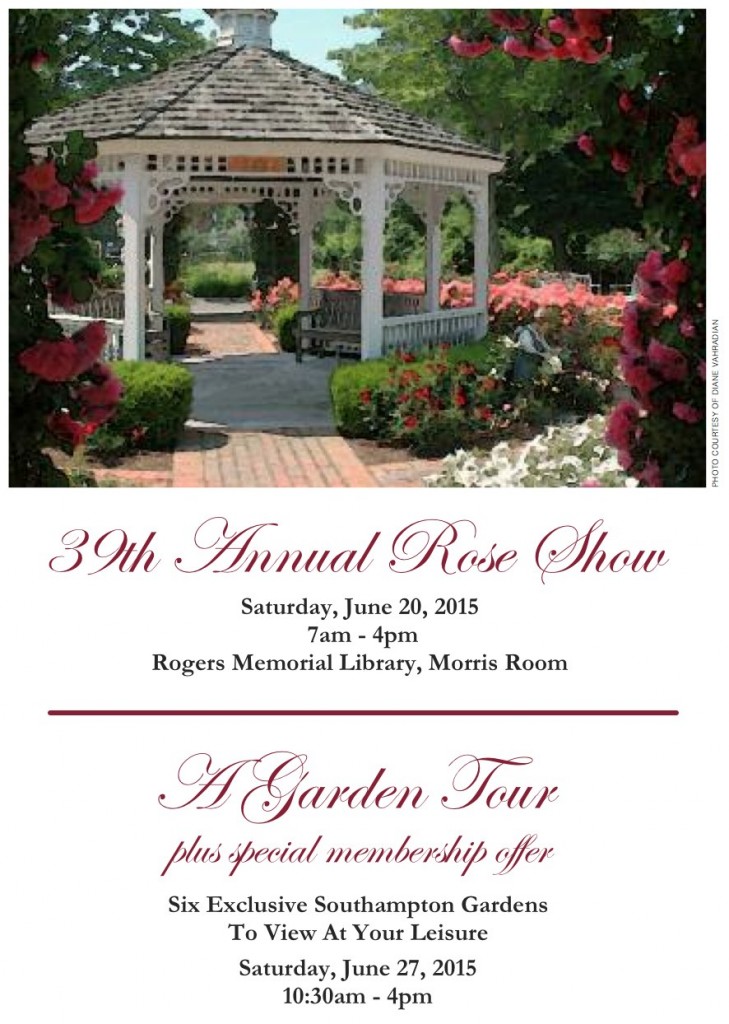 39th Annual Rose Show
Saturday June 20 7 am – 4 pm
Rogers Memorial Library, Morris Room
---
Garden Tour Fund Raiser & Special Membership Offer!
Saturday June 27 10:30 am – 4pm
Five Exclusive Southampton Gardens to view at your leisure!
(Read more about offer below)
The SRS is offering a special program where, if you purchase a $75 ticket to the garden tour, for an additional $25 you will become a member of the SRS.  Regular membership is $50 per person and $90 per couple.
---
Independence Day Parade
Saturday July 4 at 10:00 am
Southampton Village
---
Members Garden Party & Photo Competition
Sunday September 20 at 4 pm
The Garden of Carole Guest
Rain Date is September 27
---
Annual Meeting
Friday October 2 at 6:30 pm
Home of Mimi Goldberg
---
Annual Luncheon & Lecture
Saturday October 3 at Noon
Guest Speaker: TBD
The Meadow Club
---
THE SRS IS PLEASED TO ANNOUNCE
The 2015-2016 Board Of Directors
Hal Goldberg, President
Jim Berkrot, First Vice-President
Carol Kroupa, Second Vice President, Co-Chairperson of the Program Committee
Laura Devinney, Third Vice-President, Co-Chairperson of Publicity
Eleanor Silverman, Secretary
Cornelia Bostwick, Financial Vice-President/Treasurer
Nancy Rollins, Co-Chairperson of Membership Committee
Lyn Hamer, Co-Chairperson of the Membership Committee
Miriam Goldberg, Co-Chairperson of the Rose Show
Diane Vahradian, Co-Chairperson of the Rose Show
Elizabeth Kearns, Co-Chairperson of the Program Committee
Catherine Townsend, Co-Chairperson of Publicity
Standing Committee
Anne Halpin White, Chairperson and Editor of the Newsletter
Helga R. Dawn and Jack Pearson, Chairpersons of the SRS Rose Garden
Michael Staples, Chairperson of the SRS Website
Harvey Feinstein, SRS Archivist Committee Chairperson
Peter Bertrand, Education Committee Chairperson
Advisory Board
Peter Bertrand
Cynthia Brodsky (Pres. Emer. 2000-2001)
Adeline Christie (Pres. Emer. 2006-2007)
Joy Cordery
Helga R. Dawn
Harvey Feinstein (Pres. Emer. 1992-1997)
Carole Guest
Huguette Hersch
Jane Indoe (Pres. Emer. 2004-2005)
Christl Meszkat
Dorothy J. Nigro (Pres. Emer. 1976-1978)
Jane Rose