Updated June 22, 2021
Letter from the President
Dear Members and Friends,
The Board, Advisors and I wish you good health and a happy 2021.
This past year was a trying time, but many with whom I have spoken have said that they spent more time in their gardens. Plants, flowers and especially roses flourished with bountiful blossoms.  More birds and wildlife were visible to enjoy as well.
In December, the Society released a letter to our members, officially initiating the Guardian Angel Program (GAP).  In six weeks, all five gardens were spoken for. Thank you to each of our 2021 Donors.
The program will continue annually. 
The Board is planning on having all of our events this year. But we will monitor the various health and safety issues as each event gets closer.  
Remember, The Rose is the National, State and now the official flower of Southampton Village. 
Looking forward to seeing you at our events in the months to come.
Warm regards,
Jim Berkrot
President
Purchase tickets online here for our Annual Cocktail Party Fundraiser with Silent Auction on Friday, August 6th!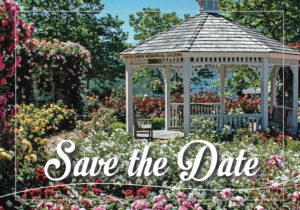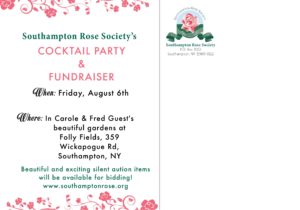 ---
Please help the Southampton Rose Society maintain the tradition of beauty throughout our village by making a contribution today by:
Mailing a check to the Southampton Rose Society 
PO Box 1022 Southampton, NY 11969
or
Using Credit card via Paypal through this website link
The Southampton Rose Society is an organization dedicated to beautifying the Village of Southampton by maintaining 5 public gardens including the magnificent Rose Garden at the Rogers Memorial Library. The SRS also offers numerous educational lectures by some of the world's most famous rosarians, gardeners, photographers and perfumers.
Show your support by becoming a Rose Garden Angel!
---
Help support the Southampton Rose Society with our
NEW GUARDIAN ANGEL PROGRAM!
---